Kronospan is a leading wood products business
Kronospan's products
We manufacture high quality wood-based panel products including
particleboard (PB) = chipboard (CB)
medium density fibreboard (MDF)
high density fibreboard (HDF)
oriented strand board (OSB)
Our portfolio includes associated value added products such as melamine faced panels, worktops, wall panels, lacquered HDF and laminate flooring.
Kronospan supplies its products to the furniture industry, merchant trade, refurbishment and DIY sectors.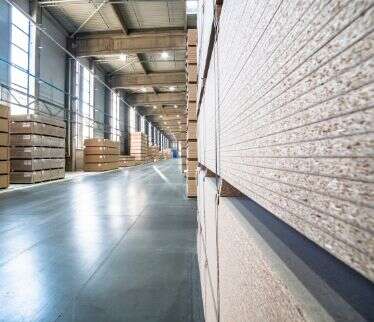 Particleboard (PB)
Multi-purpose material
Particleboard (sometimes known as chipboard) is a multi-purpose material and one of the most widely-used wood-based panels. Particleboard is an engineered wood-based product manufactured from wood chip particles and a synthetic binding resin. We form the board in a press using heat and pressure.
The main customers for particleboard are the furniture manufacturing and refurbishment sectors. Ideal for internal components, the product can also be coated with a decorative surface for applications such as kitchen, bathroom, bedroom and office furniture and shelving.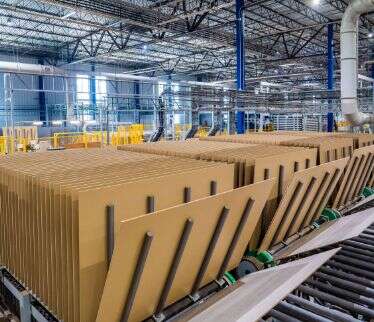 Medium density fibreboard & high density fibreboard (MDF; HDF)
Smooth, resistant, consistent, environmentally friendly
Medium density fibreboard (MDF) is a versatile wood-based panel with good machinability. MDF has a consistent structure and density and a very smooth surface. This makes it suitable for routed, lacquered and painted finishes.
The MDF production process involves grinding wood chips into fibres and binding them with synthetic resin under heat and pressure. MDF is used mainly for the furniture industry, skirting boards, architraves, packaging material, in the door industry and in everything from book covers to shoes.
High density fibreboard (HDF) contains more wood fibre per cubic metre than MDF board. HDF is used mainly as the core material for laminate flooring.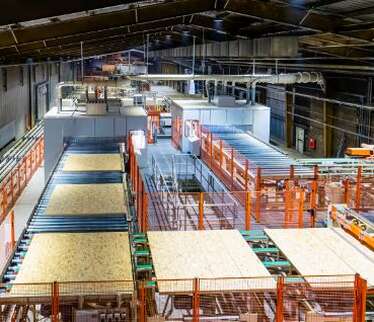 OSB
Engineered to perform
Oriented Strand Board (OSB) is an engineered wood-based panel, made of wood strands with a cross orientation, bound with a synthetic resin under high temperature and pressure.
The long and thin wood strands are "oriented" in crossed layers, guaranteeing a perfect stability and very high mechanical characteristics.
The use of fresh softwoods and the careful drying process brings quality and aesthetics to the product.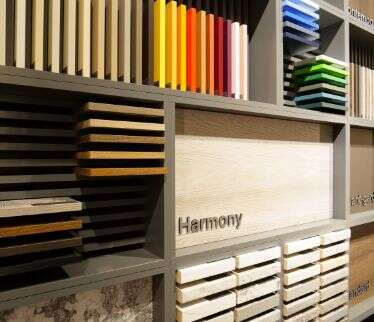 Melamine-faced panels
A designers dream
Melamine-faced panels [MF-PB or MF-MDF] are created by high pressure heat bonding impregnated paper to particleboard or MDF to provide a highly wear and water resistant product surface finish.
The product is used for a wide range of applications, including kitchen, bathroom, bedroom and office furniture, in a variety of fashionable designs and textures.
Matching laminates and edge bands are offered to customers to complement the range and enhance the finished product.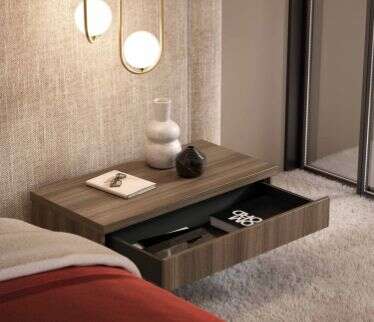 Lacquered panels (LHDF)
Clean and resistant
Lacquered HDF consists of raw HDF covered with water-diluted and UV resistant lacquers. Its most common application is for interior panels of furniture.
Lacquered HDF is also commonly used for drawer bases, interior door production, billboards, as well as in other interior design applications as a novel material.
Lacquered HDF is easy to clean and is resistant to chemical substances and mechanical impact; it is environmentally friendly and available in a variety of decors and formats.

Paper
Decorative, modern, contemporary
Malta Decor Sp. z.o.o. produces speciality and decorative paper (uni and print base) in a wide variety of colours.
Malta Decor Sp. z.o.o. is a leading producer of decorative paper globally.
Our team will answer any questions you might have. Please email office.malta@kronospan.pl and we will do our best to get back to you as quickly as possible.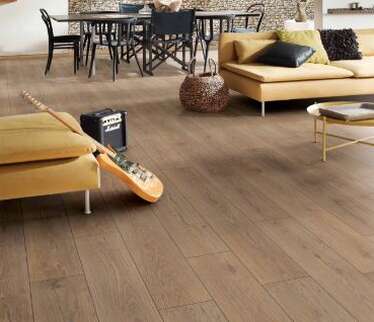 Flooring
Easy to install, easy to clean
We constantly develop new floors and product ranges.
The current flooring collection represents our widest range ever of new decors, new trends, and new surface textures and finishes.
Our flooring range includes everything from classic laminate flooring, moisture-resistant flooring to SPC andveneer floors. Kronospan floors are designed for life's ever-changing demands and the personal taste of our customers, and they are easy to clean and more hygienic than carpet and other floor coverings. Our floors offer highly acclaimed anti-static and sound absorption properties.
We believe in supporting our retail partners with a top team of in-house and field sales professionals, backed up by outstanding customer service. We showcase our flooring with high quality point-of sale presentations, and gain market strength through product excellence and excellent value for money.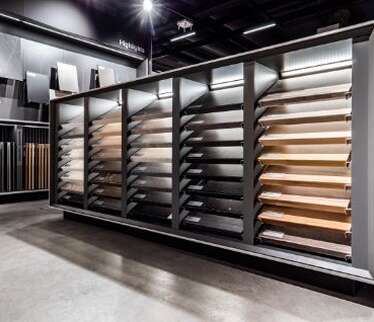 Worktops
Practical, durable and beautiful
Kronospan is a leading manufacturer of worktops. Customers can choose from a wide range of decors with various surfaces in matt or high gloss finish. You can find decors perfectly representing wood, stone or fantasy decors.
We can offer to our customers an repeat free designs and a complete collection of accessories according to their needs.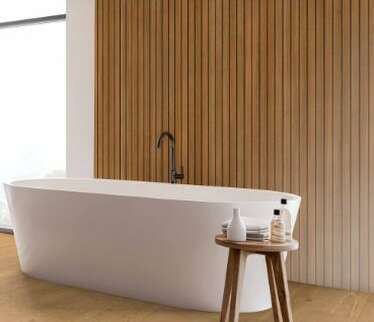 Wall panels
The perfect upgrade for any wall
The Laminate or SPC wall panel is an innovative and cost-effective new product. A simple and highly effective way to transform the look of your interior walls. Kronowall 3D laminate wall panelling can be fitted in a number of ways, depending on the effect you would like to achieve with your walls. Choose a uniform, staggered or random pattern to create 3D effect walls which are truly unique to your room style.
Kronospan Rocko Tiles are waterproof wall panels offering easy installation, exceptional durability, and a wide range of wood, marble, and stone designs, the perfect choise to renovate your home with style and functionality.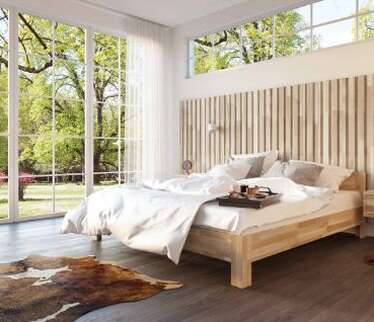 Solid wood panels
Natural and strong
Solid Wood Panels are single-layer panels made of best natural wood. Because the finished panels are strong and keep their shape well, they are ideal for high quality furniture and interior decoration such as staircases and window sills.
The panels are made mainly from beech and oak. Lamellas made from these tree species are glued together along their whole width and length, forming large blocks. Prior to manufacturing, the lamellas are dried to the same humidity as the finished product. The result is a product that looks great and performs better than solid wood.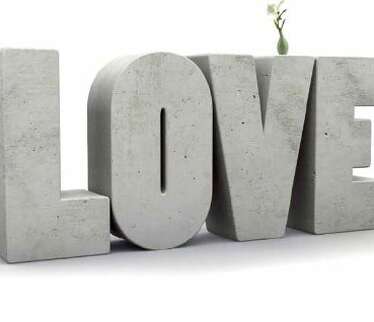 Betonyp building boards
Tough for 30 years
Healthy, debarked pine-wood and cement: These raw materials are used to produce one of our most successful products for more than three decades. Our cement-bonded particleboard, named BETONYP, is used where lightweight construction and facing elements require toughness and durability.
BETONYP building boards are used as facing elements, such as exterior facade cladding, false ceilings and interior space dividers, as auxiliary panel elements for lightweight and traditional construction systems and for shuttering elements.

Chemicals
Kronochem products ensure quality products, low emission and efficient production
Using state-of-the-art integrated resin plants, Kronochem produces high quality cost-effective resins tailored to specific demands.
Kronochem produces a wide range of chemicals:
UF, MUF and MF resins for particleboard (PB), medium density fibreboard (MDF) and high density fibreboard (HDF), including flooring
resins for oriented strand board (OSB)
impregnation resins for paper and glass fibre
formalin in a broad range of concentrations and stabilisations
urea formaldehyde concentrate (UFC)
spray dried UF and MF based resins for the woodworking industry and special applications, such as the automotive industry
speciality resins for plywood, veneering, construction glue and doors
additives including catchers, accelerators and hardeners
paraffin wax emulsions for wood applications
Kronochem offers a full range of systems for the woodworking industry. These include lowest emission resins for wood-based panels (E-1, E-LE, CARBII, JIS or "As Wood" specifications), hardeners, accelerators, catchers and paraffin emulsions.
To optimise logistics Kronochem runs the biggest and most modern methanol terminal on the Baltic Sea.
Our Kronochem team will answer any questions you might have; please email info@kronochem.com and we will do our best to get back to you as quickly as possible.