EuroShop 2023 – the latest interior solutions from Kronospan and Kaindl for retail spaces
Kronospan and Kaindl, two leading companies in the wood-based panel industry, recently had their first joint participation in Euroshop 2023, the world's largest retail trade fair. The event took place in Düsseldorf, Germany, from February 26 to March 2, 2023.
Their joint participation in Euroshop 2023 is a significant event for the wood-based panel industry. The two companies showcased their latest products and innovations in decorative surfaces, flooring, and interior design. The main focus was sustainability, design, and functionality.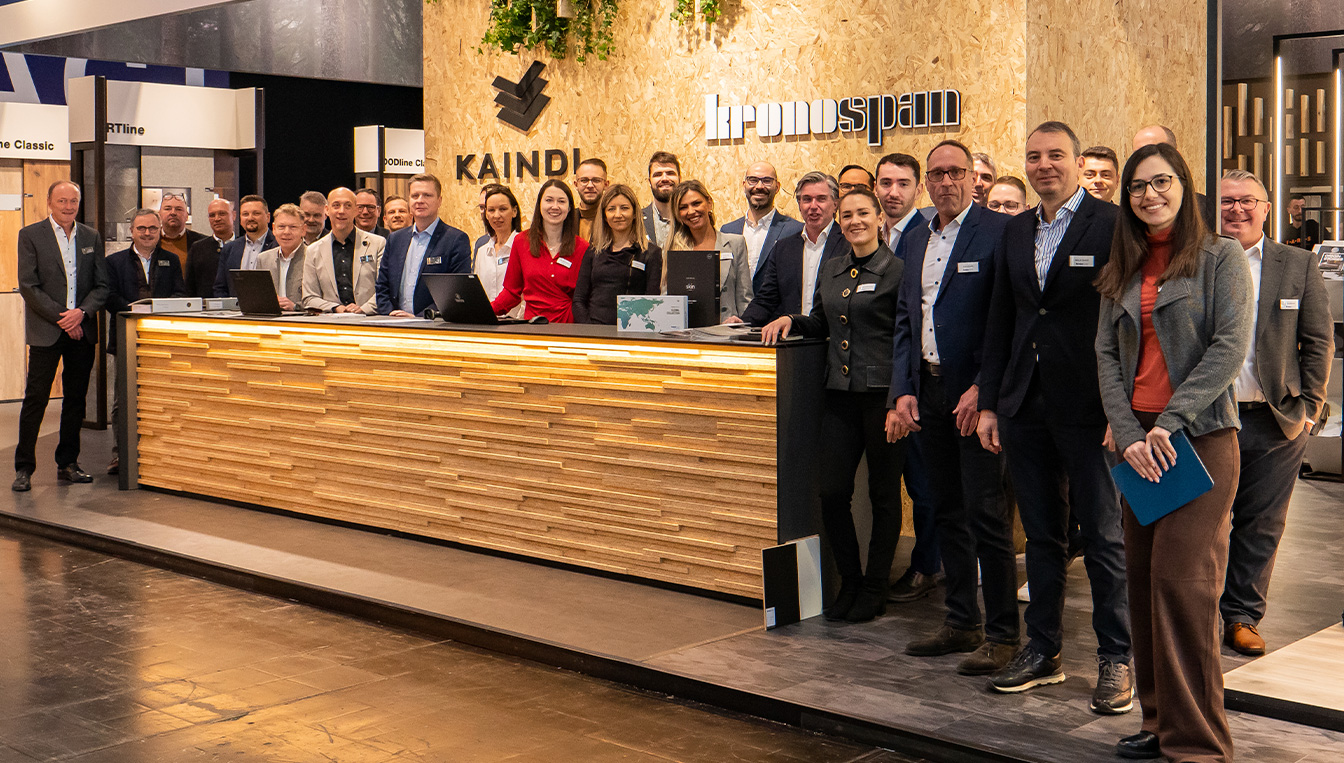 Kronospan presented some of its recently released and upgraded products.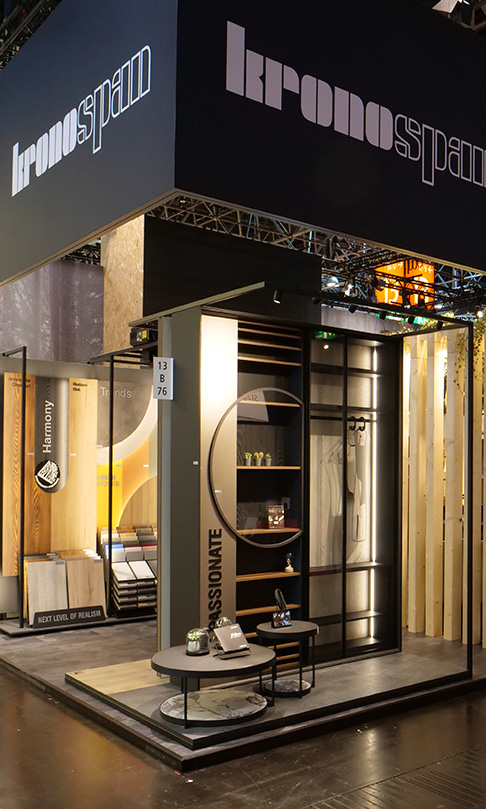 The latest Harmony collection offers materials that add character and appeal to a retail space, making it a popular choice for designers and retailers.
Rocko Tiles are designed to maximize space and create an attractive and functional environment, working to impress customers and help businesses stand out.
Rocko SPC flooring is a highly durable floor covering that can withstand heavy foot traffic in retail spaces and complements any interior.
Krono Original's latest innovation in moisture defence technology, called O.R.C.A. ensures 100 h+ splash-water protection to keep floors in pristine condition. It is not only visually striking but also highly durable. The Organic flooring collections offer something truly one-of-a-kind.
Slim Line Plus is an exclusive collection of 12 mm compact boards perfect for creating custom-made fixtures, furniture, and interior features. It is ideal for retail interior applications that are both functional and stylish.
Feelness Invisible Touch provides an excellent surface solution with an anti-fingerprint finish for any retail space with prominent people flow, exhibiting a premium appearance due to its velvety matt finish.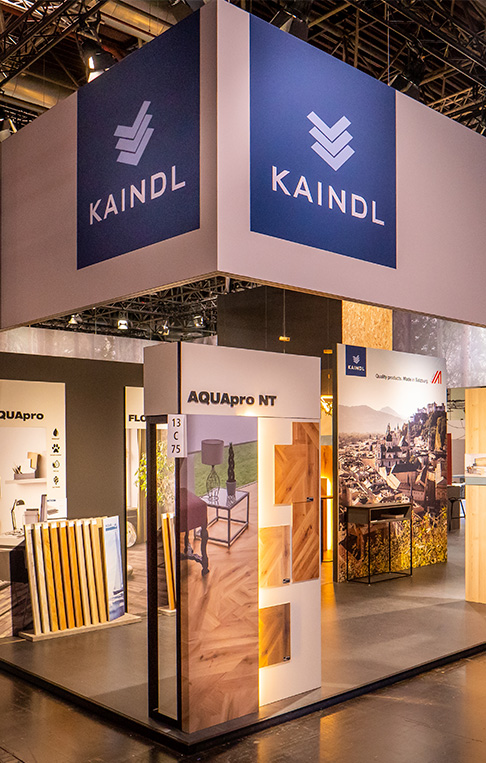 Kaindl showcased its latest laminate flooring products, which combine high durability with a range of stylish designs. The company's laminate flooring features a unique embossed surface that mimics the look of natural wood, giving it a warm and welcoming feel. Kaindl's products are ideal for use in commercial and residential settings.
Kaindl's products are ideal for use in commercial and residential settings.
Kaindl presented a range extension of the OPTIMATT anti-fingerprint product in the board's sector. Product-specific properties such as a functionally resistant surface, a pleasant feel, and a matt appearance are perfect for the most demanding customers. In addition, the decor line has been extended to satisfy the current trends and encourage brand-new color combinations.
The FLOORganic product line is equipped with AQUApro technology in the flooring field, offering moisture resistance and attached ECO underlay that ensures reduced footstep noise.
Solid Flex was another novelty at the fair. The robust vinyl flooring with the moisture-resistant AQUApro HDF core board impressed with its high resilience. Other key product properties include resistance to moisture, dirt and scratches.
Natural cork-integrated walking and impact sound insulation ensures pleasant acoustics and maximum comfort.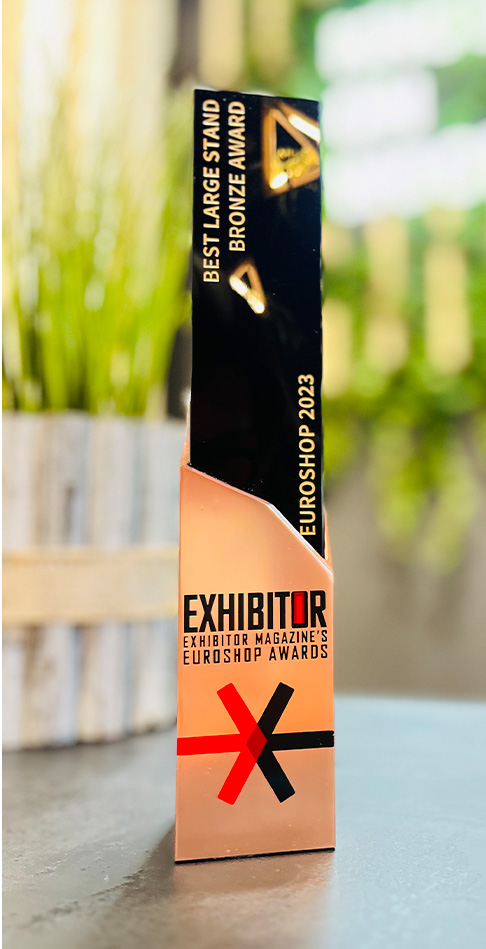 Both companies also highlighted their commitment to sustainability, showcasing their eco-friendly products and production processes. Kronospan and Kaindl use sustainable materials, such as FSC-certified wood, and employ energy-efficient manufacturing processes that minimize waste and reduce emissions.
In summary, for these five days, we welcomed more than 900 people from over 70 nations worldwide and won the Bronze prize in Exhibitor Magazine Large Category (80-200 sqm. ) at the only stand-design competition endorsed by EuroShop.
EuroShop 2023 has been the ideal platform for Kronospan and Kaindl to demonstrate their latest products and innovations to a global audience. The event brought together 1 830 exhibitors from 55 nations and attracted more than 81 000 visitors from 141 countries. This was the perfect opportunity for companies in the retail industry to showcase their latest products, network with potential clients, and keep up to date with the latest trends.