Connect to Kronospan with the NBS Source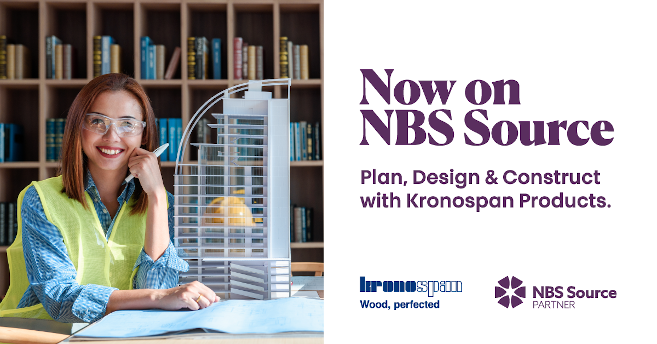 Kronospan is now a partner with NBS (National Building Specification) where you can find our products listed on NBS Source and add them directly to specifications in NBS Chorus, each with downloadable BIM files.
As an innovative producer of high quality wood-based materials, our products offer a variety of solutions for interior design led and construction projects. Partnering with NBS Source will make specifying easier. Detailed information about products can be easily found, compared and understood in a way that hasn't been seen before. By giving specifiers access to the information they need, they can make accurate, direct comparisons, allowing products to be selected more easily.
Furthermore, NBS Source has given us the ability to build and maintain relationships with specifiers throughout the whole construction journey, resulting in a much smoother and more collaborative process. A proposition that can help save valuable time and resource and increase the likelihood of a product being selected.
So far we have listed products from our Kronodesign, Kronobuild and Krono Original range on NBS Source. With industry leading accreditations to our name we wanted to find a way of raising our business profile amongst architects and designers, choosing NBS Source as a way to engage specifiers looking for best suited products and technical data when working on projects and recognising Kronospan as a manufacturer of choice.
For more information, visit:
www.nationalbimlibrary.com/en/kronospan-ltd
www.source.thenbs.com