Circularity at the heart of Kronospan future investments
There is only one planet Earth, yet by 2050, the world will be consuming as if there were three. Global consumption of materials such as biomass, fossil fuels, metals and minerals is expected to double in the next forty years, while annual waste generation is projected to increase by 70% by 2050. While up to 80% of products' environmental impacts are determined at the design phase, the linear pattern of "take-make-use-dispose" does not provide sustainable solutions for a better quality of life.¹
The sustainability challenge requires urgent, comprehensive and coordinated actions, which is the top priority of Kronospan's environmental policy. The effort of mitigation of carbon footprint and efficient use of resources promises a more sustainable future. The circular management of resources has the key role as it suggests closing material flows in the production system in order to maximize the utilization of the available resources.
Kronospan's manufacturing processes in the wood sector corresponds to the multistage, cascading use of raw material. The biomass availability is extended by efficient usage of residues and recycled materials for particleboard (PB) and energy production. That means the wood is worked into a product and this product is used at least once more in a material form before disposal and recovery for energy purposes. By using recycled wood to produce PB, the Carbon sequestered in the wood remains captured and is not released to the atmosphere.
The cascading use of wood and biomass waste streams gained growing importance in Europe, as it is promoted within the circular economy strategy of the European Commission. Circular economy replaces the 'end-of-life' concept with restoration, waste prevention, preparation for reuse, and energy recovery to disposal. This allows the added value in products to be kept for as long as possible, and in which waste is eliminated. When a product has reached the end of its life, the resource is kept within the economy, so that the product or component is used multiple times and, consequently, creates further value.²
Kronospan develops sustainable projects that are fully in line with the 3R principles of circular economy – reduction, reuse, and recycling.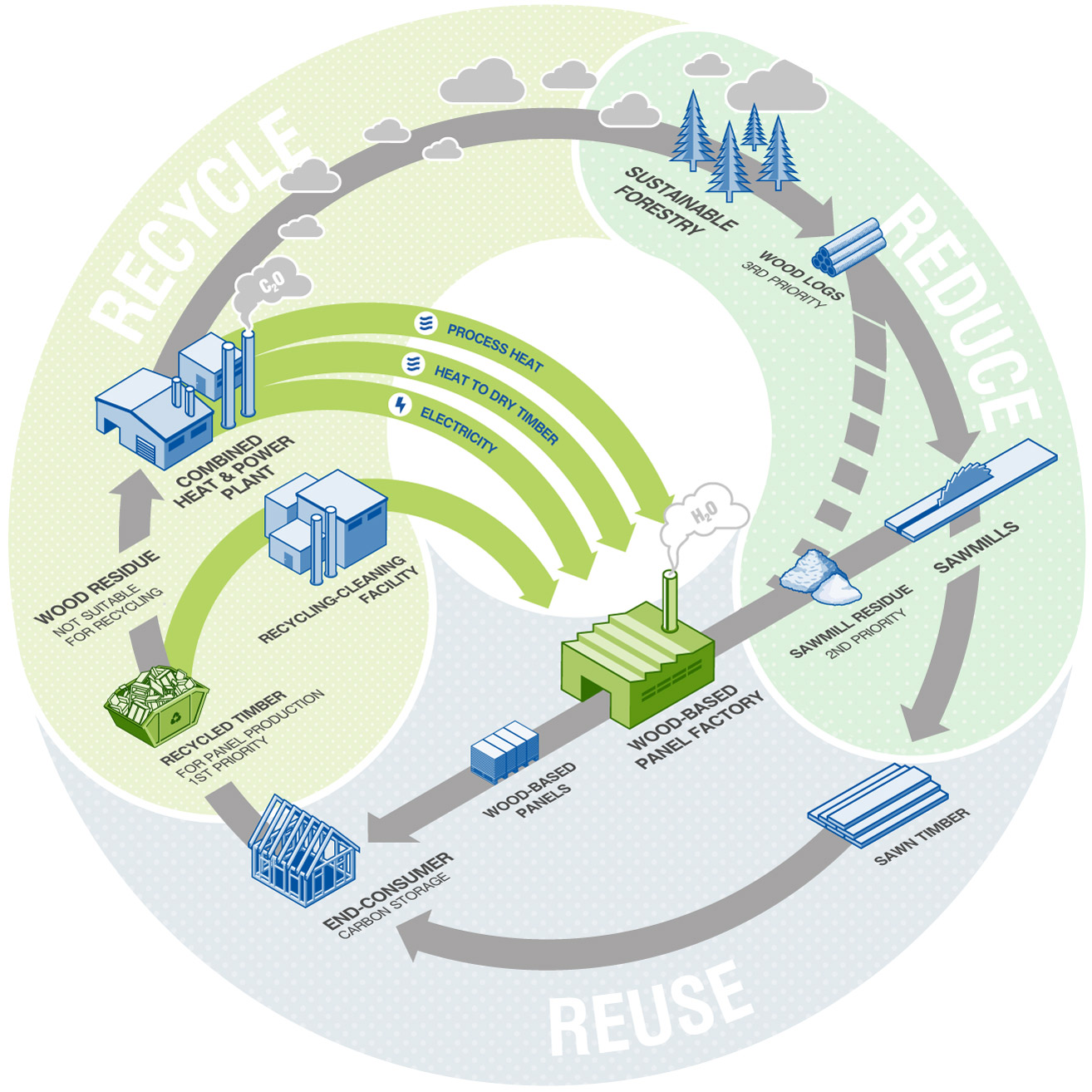 Our main task is to reduce the inputs of natural wood resources.
The reuse of industrial wood components and residues gives a second chance for utilization of the available materials
We have built our own network for collecting discarded end of life domestic furniture. Then at Kronospan we clean, crush, and turn it into wooden boards once again.
More than 1/3 of our factories are already equipped with a cleaning tower, where photocells separate the quality wood parts and the non-wood ones for the production of recycled OSB and PB.
In terms of high-efficiency biomass use and the carbon-neutral nature of its combustion, all Kronospan sites have a technology for heat generation from wood residues for the needs of the production process.
As a example our factory in Sanem, Luxembourg, is the first climate neutral production site within the wood-based panels' industry worldwide. We developed the first OSB production line utilizing 100% recycled wood. Two CHP plants are generating biomass-based electricity, and we are building a third one.
The Kronospan's largest global investment in 2022 is the factory in Tortosa, Spain, which will use 100% recycled wood in its production process.
Kronospan's investment plan is aligned with Green Deal by increasing renewable energy production and circular economy through utilizing 100% recycled wood in its production.
EU is looking for Europe to be the first climate-neutral continent by 2050
Our investments are in line with next EU industrial strategy, a new circular economy action plan includes a sustainable products' policy to ensure durability and repairability at the design stage
All wood-based panels have a negative carbon footprint. Particleboard corresponds especially well with the circular economy action plan because it can be manufactured from 100% recycled wood material.

³
¹ https://eur-lex.europa.eu/legal-content/EN/TXT/?qid=1583933814386&uri=COM:2020:98:FIN
² https://link.springer.com/article/10.1007/s40725-017-0067-y
³ Report of VTT TECHNOLOGY 115 Carbon footprint for building products