Antibacterial high pressure laminates and compact boards
Wednesday, 26 August 2020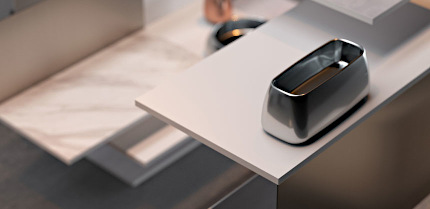 As the leading provider of surfacing solutions for commercial and residential projects worldwide, we offer products that bring beauty and safety to your spaces.
Our products with a melamine resin surface have been tested in accordance with the internationally recognised ISO 22196:2011. This standard evaluates the antibacterial activity of plastics, and other non-porous surfaces and measures the reduction in bacteria over a 24 hour period, as well as the the effectiveness of the antibacterial properties on the surface.
In the tests performed, Kronospan products have been classified as "antibacterial" with a strong reduction value*. This covers the following materials:
High Pressure Laminates (all textures/designs)
Compact Laminates
Post-formed Worktops
Square Edge Worktops
Slim Line worktops
Kronospan products with a melamine resin surface are inherently hygienic and can be disinfected, due to the density of their surface and ease of cleaning. This makes them suitable for use in shops, restaurants, hospitals and other public institutions.
The antibacterial protection that occurs on the surface of our laminates, worktops and compacts boards, delays the growth of up to 99.9% of the most frequent bacteria, such as Streptococcus Faecalis & Escherichia Coli.
Note: Regular cleaning should be carried out in private and commercial applications. If not, the antibacterial surface can be compromised.
*Reduction value – a clear antibacterial activity is given if R ≥ 1.0 at both bacteria strains.