Kronoart® is a high-quality product designed for long-lasting facade cladding applications. Kronoart® compact exterior panels combine high durability, weatherproof resilience and fire retardant properties with a wide range of creative possibilities.
Created in close consultation with leading designers and architects, you can be sure no comparable product is more in tune with global trends, backed by the highest quality and performance integrity.
Product overview
Kronoart's unrivalled performance is due to its closed surface properties, topped by a layer of very durable varnish. This structure translates into high resistance to staining, impact damage and the effects of adverse environmental conditions. Kronoart® panels have superior aesthetics paired with long-lasting, low maintenance characteristics.
Decor layer
Core paper
Decor layer
Varnish layer
Varnish layer
Format
Kronoart® panels are covered by a 10 year guarantee, and provide fire retardancy in line with EN 13501-1 standards.
Thickness/Size
[mm]
5600x2040

4200x1300

3050x1300

2800x2040

6
8
10
BS Bureau Structure
A durable smooth surface that keeps the natural saturation of all colors for a richer and more realistic effect. The delicate mottled finish makes the surface more resilient to outdoor conditions and suitable for exterior cladding.
WO Wood Origin
An authentic wood texture offering a gentle linear finish that replicates the natural undulations of open grain wood species and brings an ever-lasting feeling of durability and strength.
Whatever your project, we've got it covered
Kronoart® provides almost unlimited design options, and eye opening opportunity to create impressive cladding projects, improving the look, performance and durability of any building.
Decor Collections
Pure clean colorways, dramatic stone and steel finishes or beautiful authentic looking woodgrains, these are the ingredients that Kronoart® provides for the ambitious designer.
But why not mix them up, contrast colors and materials with a flexibility of choice and simplicity of construction that provides an enhanced freedom of expression.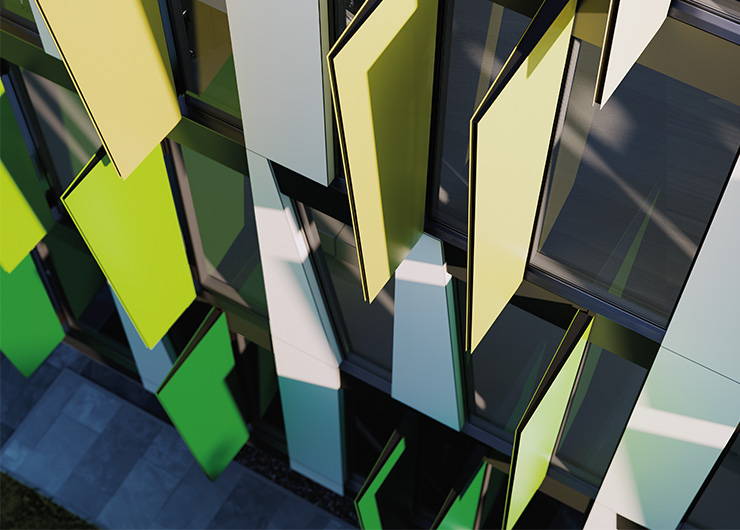 Color
The 48 uni colors enable you to create precise moods according to your design direction. Subtle, bold, naturalistic, contrasting or coordinating – you have the extensive palette you require to make your intended statement.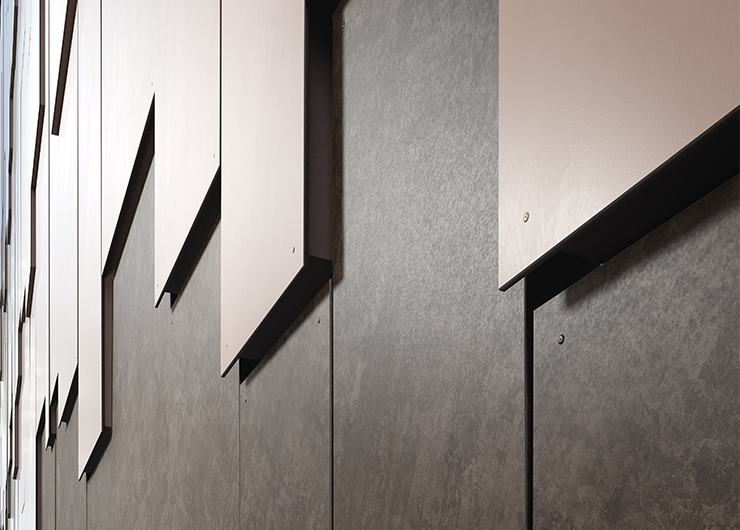 Elements
An inspirational collection of character material effects lets you work with the look of concrete, stone, cast iron and steel in a way unrestricted by handling difficulties. You have a choice of 13 decors with an air of solidity that will last; the raw sense of texture and elemental tones can give new builds in modern materials a truly substantial character.